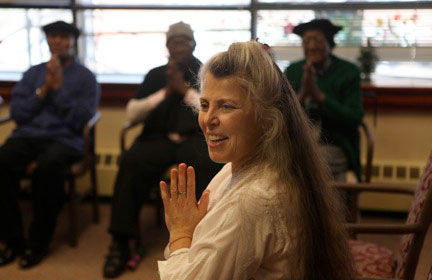 Creative Yoga Therapy
Nina Priya Ma David is a visual and performing artist, teacher, therapist with over 40 years experience bringing arts, communication and wellness to all ages and backgrounds.
She provides patient care, staff development and special programs for medical, educational, arts and spirituality organizations, including black-lung communities in Wallins Creek, KY, therapeutic communities in Harlem and the Bronx, HIV+/AIDS and oncology patients at Beth Israel Medical Center, pre and post-op patients at Hospital for Special Surgery's Integrative Care Center, CNR's Amputee Rehab Clinic, the blind and vision-impaired at Selis Manor/VISIONS CenterLight Health System, Beth Abraham Family of Health Services, HELP Project Samaritan, and Visiting Nurses of NY.
Nina Priya Ma graduated from North Carolina School of the Arts, has a BA in Theater with minors in Visual Arts and Spirituality (Nazareth College), and a Masters of Arts in Spirituality and the Arts (Fordham University).
She has taught at schools conferences including Mannes College of Music, SUNY Purchase, Fashion Institute of Technology, Fordham University, Integral Yoga Institute, Yoga Alliance, the National Council on Aging, NY State Therapeutic Recreation Association, the International Yoga Therapy Conference, and Saffron Strand's conferences on homelessness.
Nina Priya Ma has also written articles and been reviewed by various magazines and newsletters such as Integral Yoga Magazine, Namaste, NYC Daily News, Daughters of Sarah, Faith at Work, Esquire and Time.
She is the recipient of an Oscar for Best After-School Documentary, the Independent Artist Challenge Grant from The Field, the Benevolence and ACTS Leadership Grant from Marble Collegiate Church and Outstanding Alumna Award from Nazareth College.
Nina Priya Ma is the founder of Creative Clinics/Creative Yoga Therapy and the creator of The Better Breathing, Speaking and Swallowing Program. She currently lives with her husband and daughter in New York City.